Tehran Choir History
In fall of 1999, Mehdi Ghasemi suggested Bahman Cultural Center, to train a choir from the very first steps to a professional level.
In January 2000, more than one hundred of students were signed up for music theory, sight singing and vocal technics training, most of them did not have any music experience. After 6 months of intense training, About 40 people were accepted as the choir members and started rehearsing the pieces.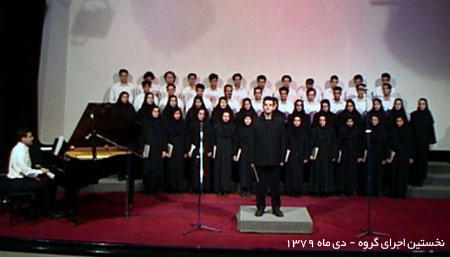 The first public performance of this group was held at January 2001 (less than a year they started the educational period). In this concert, 17 pieces from Arcadel to Gershwin and Iranian folk songs, were performed. This performance was far more superior than what was expected from an amateur group in Iran, resulting in admiration of the experts and media.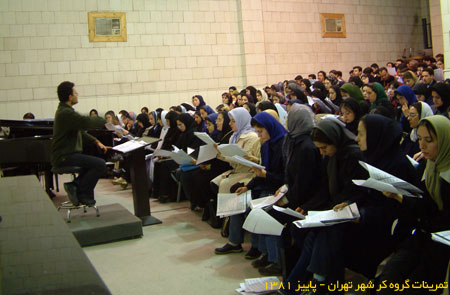 According to the successful experience in establishing this choir, The Conductor decided to establish the biggest choir in the history of Iran. Hundreds of enthusiasts auditioned to join the group in Summer of 2002. Following that, 12 classes started training them in both Bahman and Arasbaran Cultural Centers.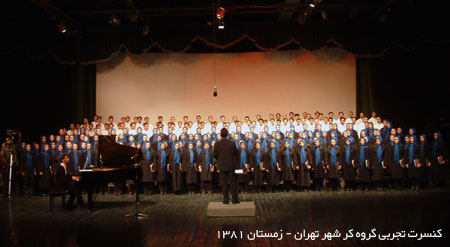 In Winter of 2002, The first experimental concert of this group was held at Avini Hall of Bahman cultural center. The first official concert of this group, Which was called "Tehran Choir" as of then, were held in fall of 2003 with more than 150 singers, 7 parts of Carmina Burana (Carl Orff) were performed for the first time after the revolution of 1979 in this performance.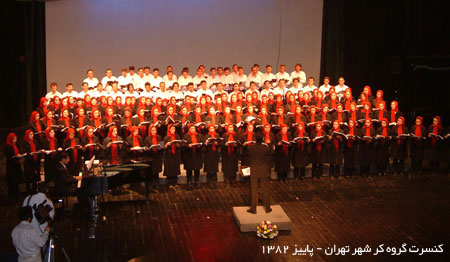 In addition to participating in Fadjr festivals, Tehran Choir also had many performances in Bahman Cultural Center, Roudaki Hall, and Art Cultural Center. Performing pieces of 19th century and modern composers like Debussy, Poulenc, Bartok, were unprecedented, before they were performed by Tehran Choir.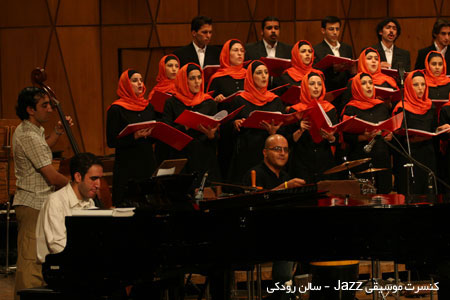 From the fall of 2005, Tehran Choir's rehearsals were held at Part Music School. Meanwhile, different concerts like Azari music featuring Yalda group and Jazz and Latin concerts were performed in addition to classical music.